It is not easy to make a prediction on the future price of the HOT coin because it depends on many factors still unknown. However we are sure that currently the price is very low and it would be a shame to miss this opportunity. Project founder Arthur Brock made a Holo coin price prediction on the Reddit social network and talked about a future price of $1 for each Holo coin in the next few years as well as price stabilization in that area. This could happen in 2022, 2025 or 2030 nobody can know exactly the timeline. Indeed, the HOT token is a placeholder for the future HoloFuel cryptocurrency. It was designed to become a long-term stable coin and currently the token is in the process of speculative price discovery in this direction. This trend should remain strong as long as the project has not yet become mainstream and known to everyone. By browsing the documentation we can find the modeling of the relationship between the price of HoloFuel and the internal price which explains that the three prices: the hosting price, the internal price and the price of HoloFuel are closely related. As explained earlier we can see that the price of HoloFuel has a tendency towards stabilization. Finally, this graph 1 looks a lot like the trend that Bitcoin has taken over the last 10 years visible in graph 2. That is to say a succession of parabolic rise during price discoveries then a stabilization of the price with less and less strong movements and longer and longer. Indeed, in the event of massive adoption of crypto-currencies, Bitcoin could also become a stable coin in the long term. However, the design of HoloFuel should allow it to be quickly more stable and thus avoid the usual 60% declines in Bitcoin during bear market phases. However, be careful not to confuse HoloFuel (HF) with the stable coins tethered to the price of the US dollar, such as USDT, USDC or BUSD tokens. Indeed HoloFuel will not be attached to the price of the US dollar, it can reach $ 1 but go even higher towards $ 2 or more! However, volatility will decrease more and more as it rises, which is why it is important to be an early adopter in order to benefit as much as possible from the rise in price.
Chart 1: Interaction between the price of HoloFuel and the internal price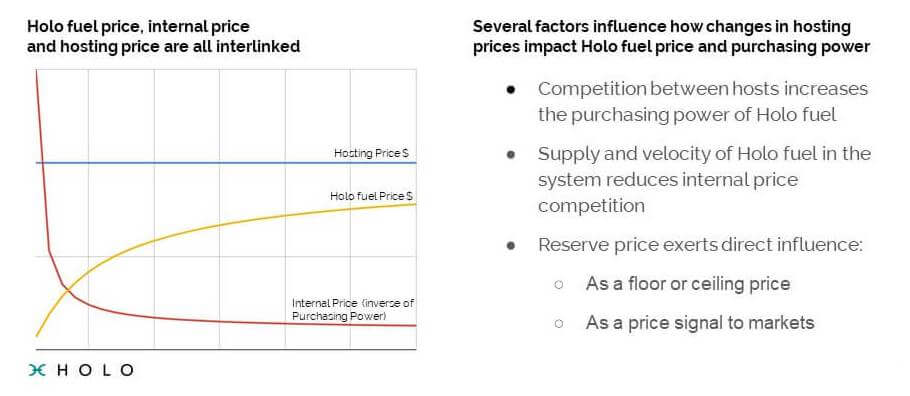 Chart 2: Bitcoin's parabolic super-trend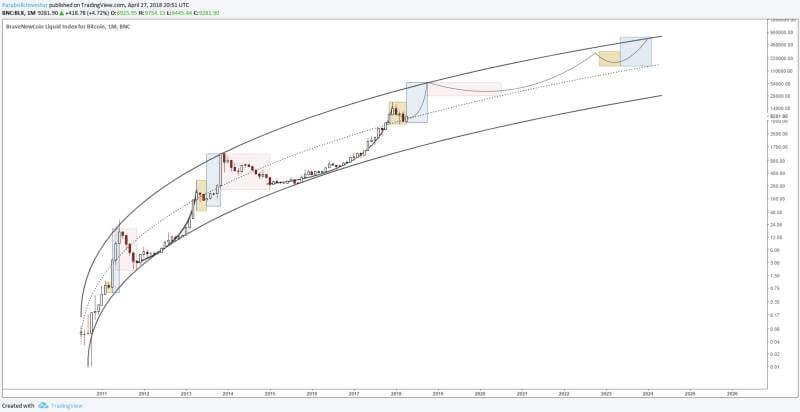 Holo coin (HOT) Price Prediction: Technical Analysis in 2022
In February 2021 we had a memorable event in the world of cryptocurrencies, indeed on February 8 2021 Elon Musk the CEO of Tesla publicly announced that his company had invested $ 1.5 billion in Bitcoin which represents 8% of the assets of the society at the time of the transaction. It was also on that day that later in the evening cryptoassets called ulta low sats * exploded in minutes and performed by a hundred percent. Holo (HOT) is one of these ultra low sats, we can also mention Bittorent (BTT), Wink (WIN) and Dent (DENT). Coming back to Holo (HOT), this Monday, February 8 2021, it brokes this big price resistance at the level of 0.001 USD (yes a tenth of a US dollar cent). This resistance is also a very important psychological threshold for traders and investors.
ultra low sats * = a very affordable crypto asset class, indeed with around 1000 $ it is possible to acquire 1 million units of these cryptocurrencies
Between February 8 and April 5, 2021, the Holo (HOT) coin made its first big impulse wave after breaking that $0.001 and then retracing it properly. It took 12 months to complete this cycle and stabilize in order to prepare for a next wave of impulse which has just started exactly 1 year after the previous wave, that is to say on February 8, 2022.
Long Term Technical analysis: Holo Coin Chart
As we can see from the weekly logarithmic chart (Weekly) below of HOLO/USD (HOT/USDT) on the Binance exchange. You can see this blue line at $0.001 which served as the first psychological level as well as a pivot between buyers (bull) and sellers (bear). The next psychological level that serves as horizontal resistance is now the red line laid at $0.017, we are aiming for a return to this price and a quick stabilization before a strong breakout for a next big impulse.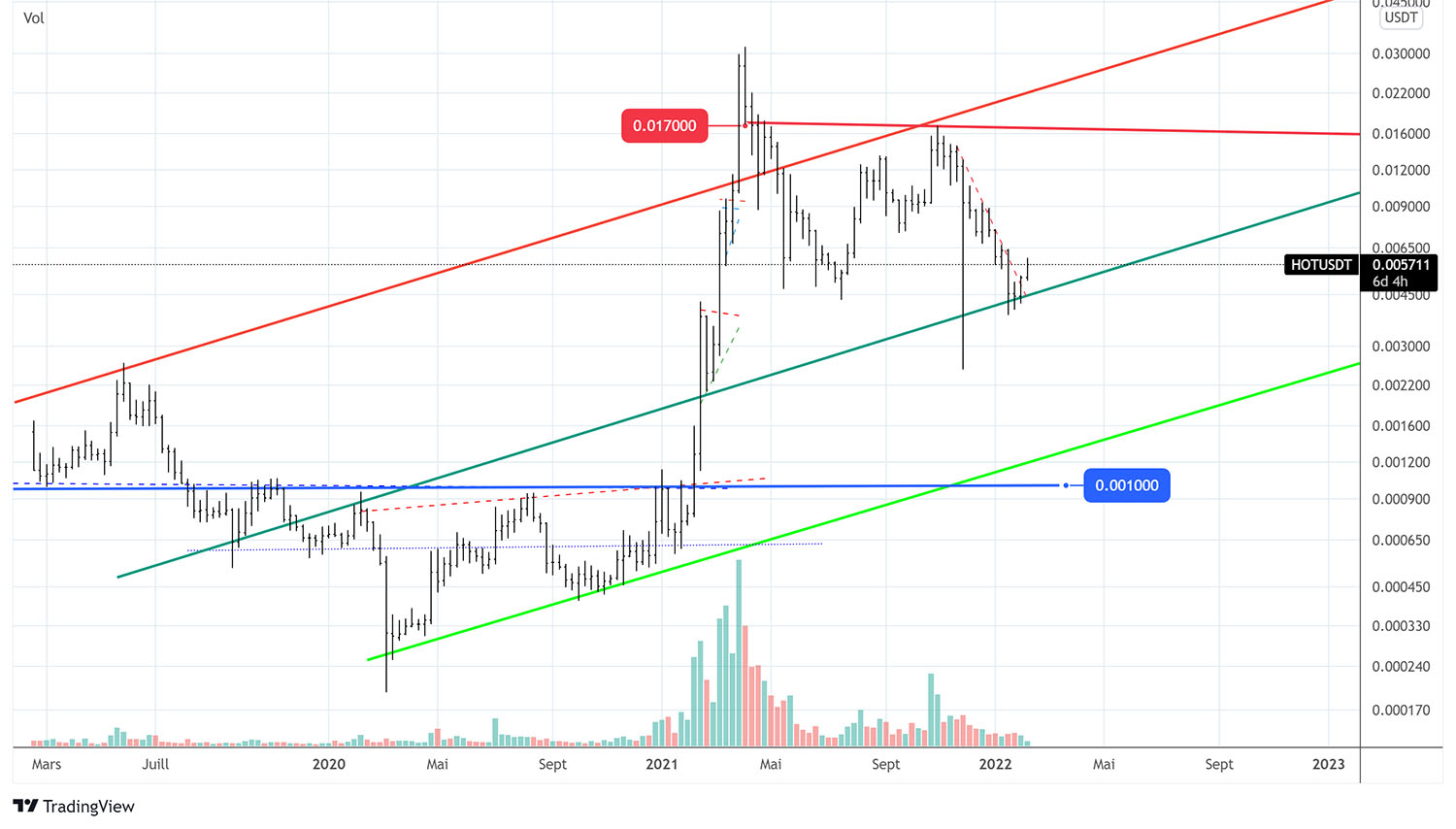 Holo coin (HOT) Price Prediction in 2022
By looking at the chart of Holo against other pairs of cryptocurrencies such as HOLO/ETHEREUM (HOT/ETH) or even HOLO/BNB (HOT/BNB) we can notice a huge upside potential against these cryptocurrencies. For Holo to succeed in outperforming against these strong currencies Ethereum and Binance Coin, we can count on major events for the project during this bullmarket of 2022. We have listed these events:
Releasing of the applications : Elemental Chat, HoloFuel, Host Console, hApps Publishing
Switching from AlphaNet to BetaNet and finally from BetaNet to MainNet
Listing of the Holo Coin (HOT) on the Binance US platform
Listing of the Holo Coin (HOT) on the Coinbase platform
If we accept the fact that we are in a big bull market, these crypto-currencies will also rise in 2022 against fiat currencies (dollar, euro ...) which gives us a potential price of HOLO/USD (HOT/USDT) between 5 and 50 cents for the peak of the cryptocurrency market in 2022.
Holo coin (HOT) price prediction in 2022, 2023, 2024, 2025, 2030
The years after this bull market of 2022 may then be dangerous for many crypto projects. Indeed, the vast majority of these projects are driven by marketing and scarcity, which means that even with very few users, promotion on social networks by influencers drives up the price. But beware, the price rises so quickly that at a certain point there will be no more buyers and a wind of panic risks frightening and causing the departure of many novice investors as in 2018. Fortunately the Holo project will be become HoloFuel will finally be recognized and mature. Its mechanism for regulating the quantity of token in circulation will stabilize the price according to supply and demand. We still expect the price to drop between 2022 and 2023 but less than the majority of other cryptocurrencies. Then 2024 and 2025 the price may start again in a strong trend just like Bitcoin and the few other surviving cryptocurrencies.
| | 2021 | 2022 | 2023 | 2024 | 2025 | 2030 |
| --- | --- | --- | --- | --- | --- | --- |
| Price (low) | 0.01 $ | 0.05 $ | 0.05 $ | 0.25 $ | 0.50 $ | 2.00 $ |
| Price (high) | 0.10 $ | 0.50 $ | 0.75 $ | 1.00 $ | 2.00 $ | 5.00 $ |
* Disclaimer: Our predictions are made based on many factors from the past such as historical data, social data, technical progress. We are not responsible for any profit / loss.
Learn more
.